Yaesu FT-450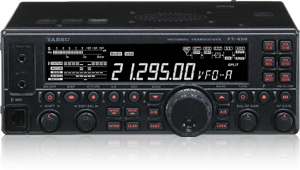 Changing the display
By pressing and holding the following keys while powering on the radio you will gain access to the hidden menu of the Yaesu FT-450.
Press and hold ATT/IPO, NB and AGC buttons at the same time and press the power button and power on radio while still holding in these buttons, and to change the setting you simply use the DSP control (rotary) to select the item you want to change and use the main VFO knob to alter the independent settings of your choice.
To change the color of your screen, change the settings of LEDINT1, LEDINT2 and LEDINT3, will do most colors. To exit the hidden menu simply press (F) function key. In some radios the radio might also do a full reset.
So if you go in there and change anything in there and if you ruin a perfectly good radio, no one is to blame but YOU!
These Technical Menu settings are in my FT-450AT
FT-450AT Service Menu Settings - VK4SN
Service Menu
Setting
Service Menu
Setting
S-meter
TX Gain Adj
SMADJ10
25
TXG1H
56
SMADJ1
71
TXG2H
41
SMADJ2
56
TXG3H
48
SMADJ3
59
TXG4H
63
SMADJ4
60
TXG5H
63
SMADJ5
45
TXG6H
57
SMADJ6
43
TXG7H
54
SMADJ7
10
TXG1L
33
ALC
TXG2L
25
I-ALC1
58
TXG3L
29
I-ALC2
51
TXG4L
40
I-ALC3
58
TXG5L
39
Power Adj 100W
TXG6L
32
1PO100
148
TXG7L
33
2PO100
146
AM Carrier Level
3PO100
148
AM-CAR
103
4PO100
150
ALC Meter Adj
5PO100
149
ALCM L
115
6PO100
138
ALCM H
95
7PO100
137
Reverse ALC Adj
Power Adj 50W
1-RALC
63
1PO50
96
2-RALC
59
2PO50
94
3-RALC
63
3PO50
96
50RALC
65
4PO50
95
Volt Meter Adj
5PO50
94
VM-ADJ
4.40
6PO50
94
HF SWR
7PO50
87
HF 1SWR
85
Power Adj 20W
HF 2SWR
85
1PO20
48
HF 3SWR
85
2PO20
48
50 SWR
75
3PO20
48
ATAS Controller
4PO20
48
ATAS DN
80
5PO20
48
ATAS BK
95
6PO20
48
ATAS UP
255
7PO20
45
Temperature
Power Adj 10W
TMPWRM
130
1PO10
26
TMPHOT
68
2PO10
25
TMPOVR
41
3PO10
26
4PO10
26
TYPE
A
5PO10
26
6PO10
25
Front display colour
Orange
7PO10
22
LEDINIT1
100
Power Adj 5W
LEDINIT2
30
1PO5
9
LEDINIT3
3
2PO5
9
3PO5
9
4PO5
9
5PO5
9
6PO5
9
7PO5
9